Solvent Traps Direct is the premiere FACTORY DIRECT distributor of USA Made solvent traps, solvent trap parts and accessories to consumers and businesses. We also sell gun cleaning kits, barrel devices and various firearm accessories.
Our 5 star customer reviews reflect our commitment to quality products and dedication to world class customer service. Let us exceed your expectations!
Solvent Traps Direct is also the largest, full-stocking dealer of Solvent Traps in the United States. If we sell it, it's in stock and ready to ship -- unless we specifically tell you otherwise.
Quit wasting time and money with other stores that make promises they can't fulfill. Solvent Traps Direct has over 18,000 satisfied customers and we're only in our fourth year of business.
What are you waiting for?

Bulk Discounts
We offer Bulk Discounts for Spending More in our Store!

Spend $1000 in one order and get 10% off your order at checkout with this code: 1000gives10%
Spend $1500 in one order and get 15% off your order at checkout with this code: 1500gives15%
Only one coupon code per order.
Normal Shipping is UPS First Class 1-3 day

Please be patient if you have extra days beyond the First Class 1-3 day shipping we are paying for!
We are experiencing some shipping delays due to USPS Covid issues . UPS is generally fastest. USPS shipping can vary.
Please contact us if you have specific questions. We appreciate your business!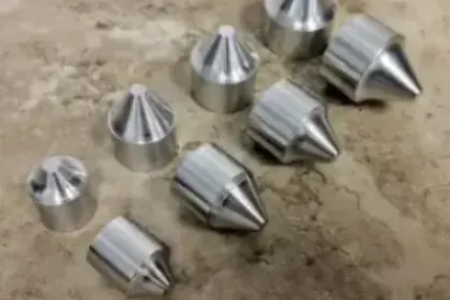 Solvent Trap Kits
Mix and match solvent trap parts as needed or order pre-configured Solvent Trap Kits that match all combinations of parts with titanium, carbon steel or aluminum that our customers have been ordering.
Add a Cerakote finish to any of our Solvent Trap Kits
Flat Dark Earth | Graphite Black | OD Green | Sniper Grey
Sale Events
Thanks for your support, follow us on Face Book for future sales events!
What is a Solvent Trap?
A Solvent Trap is a firearm barrel cleaning accessory that provides an easy way to recycle solvent, thus saving money and protecting the environment. Additionally, Solvent Trap Kits are easy to assemble and use.
Recycling solvent makes you environmentally conscious and saves money!
How to use a Solvent Trap?
Just screw an end cap and thread adapter onto the tube and screw the unit onto the muzzle end of your barrel. The trap catches the solvent you pour through your barrel as you clean it. No fuss, no muss, no stink!
Military Discounts
We are proud to offer a 10% discount to customers that are active military or Veterans of the US Military!!
May 2020
We've also added 1st Responders to our 10% discount program!!
Offering a veteran's discount is our way of showing respect and a thank you every time they order from us.
Start on the Military Discount Page to verify your service or click on the image below.

Why Clean a Firearm Using a Solvent Trap?
A clean gun is a working gun. If you clean your gun regularly like so many members of the police and armed forces do, you know exactly how messy it can get. The mess isn't necessarily the problem—although it often does produce a noxious odor which has been known to upset more than a handful of wives—it's the potentially harmful chemicals of a barrel cleaning solvent which could make contact with your skin or the environment.
Solvent traps capture barrel cleaning solvent before it has the opportunity to harm the user or the environment. Additionally, it saves responsible gun owners money. The solvent is filtered and captured by the trap so it can be reused. This reduces the environmental impact of the chemical solvent disposal necessary after cleaning a gun.
A solvent trap is very simple to use: the operator simply attaches it to the muzzle end of the gun's barrel and pours solvent down the gun barrel as they normally would. Then the solvent trap does its work of catching all the solvent. Eliminating the hassles, smell and mess of spilled solvent. Filtering the solvent and reusing it offers cost savings and is good for our environment.
Solvent Trap Materials
Our Solvent Traps and parts are made in the USA with only the highest quality materials, including these materials:
Titanium, Carbon Steel, Aluminum and Stainless Steel
We also have Quick Attach Adapters :
Quick Attach Adapters
Our solvent trap kits are designed to meet your personal preferences and preferred level of cleaning convenience.
Solvent Traps Direct
Once you order your gun accessories factory direct, you'll never want to go back to the old way. No middlemen, no hassle and unbeatable prices. We look forward to earning your customer loyalty at Solvent Traps Direct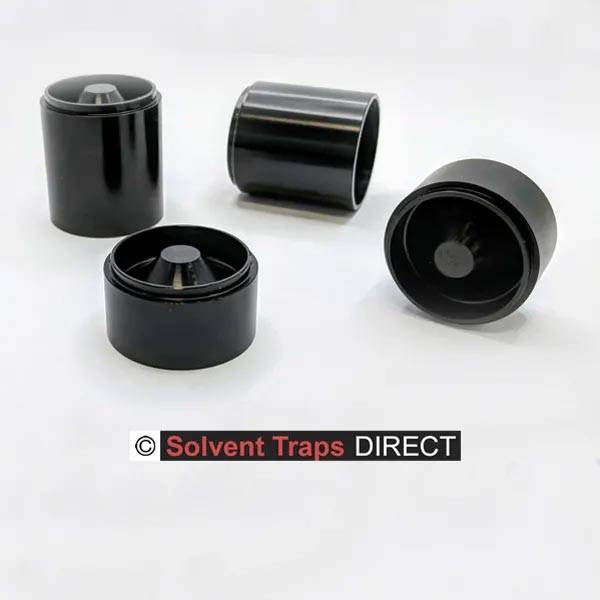 Dry Storage Cups
Multi-use Aluminum Storage Cups
Dry storage cups are an accessory for solvent traps that divide the interior space for emergency storing of essential items such as:
Emergency storage containers - Prepper emergency storage

gun cleaning patches

matches and char paper

Medications such as allergy or Nitroglycerin pills

or whatever fits!

For an exact length to fit a particular item add a titanium spacer tube.
Our products do not cause damage, harm or injury to anyone that uses them nor can they harm others in any way when used as intended:
SOLVENT TRAPS ARE CLEANING ACCESSORIES THAT HELP THE ENVIRONMENT!